Maharashtra is proto–a paradise for any high-spirited traveler. Monuments, caves, beaches, river banks, forest areas, wildlife reserves, tiger reserves, world heritage sites, and religious pilgrimage. Name any kind of tourist destination and you will find one in Maharashtra.
It holds special significance for wildlife enthusiasts since exotic flora and fauna are spread all across the state. Hilly terrains and forests of Western Ghats provide it with a beautiful landscape and are home to innumerable wildlife species.
List of must-visit Tiger Reserves in Maharashtra
Tadoba Andhari Tiger Reserve
Umred Karhandla Wildlife Sanctuary
Pench Tiger Reserve
Nawegaon Nagzira Tiger Reserve
Sahayadri Tiger Reserve
Tadoba Andhari Tiger Reserve
Tadoba Andhari Tiger Reserve graces the district of Chandrapur in Maharashtra. Tadoba is the state's oldest and largest Tiger Reserve of Maharashtra. Located about 150 km from Nagpur city, the reserve is one of the 47 Project Tiger reserves in India.
The tiger reserve is spread over a total of 1, 727 sq. km. This area is inclusive of the 1955 established Tadoba National Park.
The Andhari Wildlife Sanctuary, created in 1986, was merged with the park in 1995 to form the present-day tiger reserve.
As per the National Tiger Census conducted in 2010, the count of tiger population in Tadoba stands at 43. This is one of the highest stats in India. You can fulfill your tiger spotting wishes here on a Tiger Safari.
It is the best place to meet a Royal Bengal Tiger.
Explore Tadoba Safari Package
Safari Zones
The safari is open for about 4 hours each in morning and afternoon sessions. The reserve is divided into three safari zones, namely, Moharli Zone, Tadoba Zone, and Kolsa Zone. Out of these, Moharli provides the best occasions for tiger spotting.
Tadoba and Kolsa zones are popular for their striking landscape features and wildlife diversity.
Safaris can be booked at the Nawegaon gate of the DFO office in the Chandrapur district. Be sure to reach early for safari bookings since only 36 jeeps inside the reserve are allowed at a time.
Entry for tiger safari is permissible from all of the six gates to the reserve. These are Moharli Gate, Kuswanda, Kolara Gate, NaveGaon Gate, Pangdi Gate, Zari Gate. Kolara Gate lies 120 km away from
Nagpur is the closest of all to the city. It also allows the highest number of vehicles inside i.e. 9 each in the morning and afternoon.
Best time to visit Tadoba Tiger Reserve is from October to June.
Umred Karhandla Wildlife Sanctuary
Umred Karhandla Sanctuary is about 58 km from Nagpur and 60 km from Bhandara. This Sanctuary also has a connection with the Tadoba Andhari Tiger Reserve through the forest along the Wainganga River.
It is home to resident breeding tigers, herds of Gaur, wild dogs, and also rare animals like flying squirrels, pangolins, and honey badgers.
The sanctuary provides connectivity between key tiger reserves like Tadoba, Pench, Bor, and Nagzira. It thus also serves to reduce the pressure on tourists and tourism-related activities from those protected areas because they are more Eco-sensitive.
Over the last few years, the number of tourists is increasing. Tigers are very commonly seen here in many villages around the sanctuary.
About 100 km of motorable road has been developed out of which tourists are allowed on 44 km. The road can handle about 40 vehicles- 20 in the morning and 20 in the evening.
The Forest department has trained about 20 villagers from the nearby areas as guides which provides them employment. The main entrance of the sanctuary is at Karhandla village.
It is one of the most visited wildlife sanctuaries, after Pench in the Nagpur area.
The Tiger Jai
The Tiger Jai, regularly sighted in the park, has migrated here from the sanctuary at Nagzira. He is the only male and has over nine cubs from three female tigresses. This jungle has become a hotspot for many tourists and photographers who treat Jai as no
The Tiger Jai, regularly sighted in the park, has migrated here from the sanctuary at Nagzira. He is the only male and has over nine cubs from three female tigresses. This jungle has become a hotspot for many tourists and photographers who treat Jai as no less than a superstar.
Pench Tiger Reserve & National Park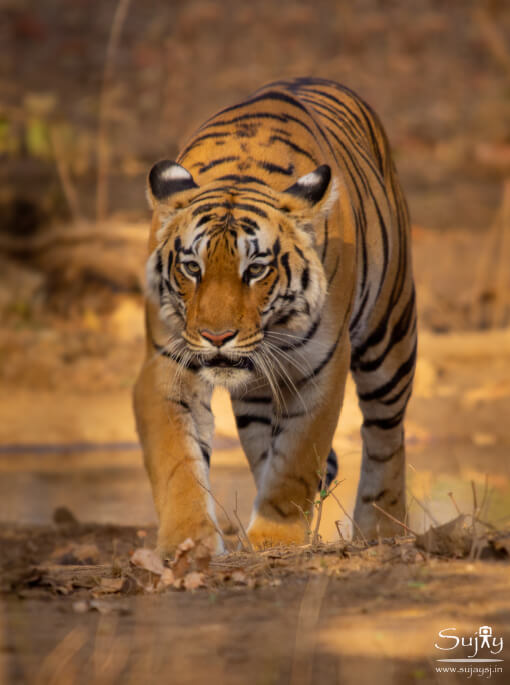 Royal Bengal Tiger, Pench Tiger Reserve, Img Credit
Pench National Park or Pench Tiger Reserve is one of the premier tiger reserves of India and the only one to straddle across two states – Madhya Pradesh and Maharashtra.
As per many experts, this area is considered one of the prime and critical tiger habitats remaining in central India.
It derives its name from its life line-the River Pench. Inside the park, the river flows from North to South before going on to join the Kanhan River.
This area was described as extremely rich and diverse in wildlife from the earliest records available on the 16th century Deogarh kingdom.
The scenic beauty and the floral and faunal diversity of the Central Indian Highlands have been well documented by the British since the late 17th century.
The fictional works of Rudyard Kipling, The Jungle Book, and The Second Jungle Book, are set in the region. Kipling himself never visited the area, instead basing his descriptions on other locations in India.
As of May 2017, the number of tigers in the 
Pench Tiger Reserve has increased
to 44 as compared to 31 in 2016. From this numbered estimate, 22 are males and 22 are females.
This estimate does not include the number of cubs present, which are assumed to be about 7-8. The estimation was conducted jointly by the Wildlife Conservation Trust (WCT) and Pench Tiger Foundation, spread over 21 days in January 2017.
There are six tourist entry gates at the reserve. Much like the system of wildlife tourism in most of India, the tourism activity in Pench Tiger Reserve is restricted to 20% of the core area and is carried out through safari drives done each day in the early morning and evening.
The number of jeeps that are allowed entry into the reserve is restricted by the Forest Department.
Best time to visit Pench Tiger Reserve
For best sighting, Pench can be visited from November to April every year. During May and June, the temperature is relatively high but it is the best time to spot a Bengal Tiger.
Pench National Park is one of the most famous parks to see a Tiger in Maharashtra.
Explore Tiger Safari Package
Nawegaon Nagzira Tiger Reserve
The name "Nawegaon" comes from the word Nawe + gaon (Nawe means new in Marathi and Gaon means village). This area is also known as Nawegaon Bandh locally (bandh means dam in English) because of the presence of the water body. Mostly tribal people live here and this area was under Gond Kings in the old days.
Nawegaon-Nagzira Tiger Reserve was notified as the 46th tiger reserve of India on 12th December 2013.
It's the 5th Tiger Reserve of Maharashtra. It is situated in Gondia and Bhandara Districts in the North-Eastern corner of Maharashtra.
Strategically the Tiger Reserve is located in the heart of the central Indian Tiger landscape which contributes almost 1/6 of the total tiger population of the country.
This area is an excellent abode for almost all major floral and faunal species found in central India. Apart from tigers, other animals like Panther, Palm Civet, Jackals, Bisons, Sambars, Nilgais, Chitals, Wild boars, and Sloth Bears can also be seen.
The sanctuary also serves as a living repository of various economic, medicinal, aromatic, and ornamental plant species.
The tiger reserve is open to tourists throughout the year, with different timings depending on the season. Means of travel in the reserve and different forms of accommodation are available for visitors.
If you are lucky, you can witness many majestic big cats sprawling around in this undisturbed landscape.
Best time to visit Navegaon Nagzira Tiger Reserve is from November to February every year.
To Book Nawegaon Nagzira Tiger Safari Call|Whatsapp:+919822083308
Sahayadri Tiger Reserve
This is a tiger reserve that was formed by merging three wildlife sanctuaries of Maharashtra – Koyna, Chandoli, and Radhanagari (This sanctuary is just merged recently. All three sanctuaries consist of rich evergreen, semi-evergreen and moist deciduous forests.
Sahayadri tiger reserve was declared a tiger reserve in 2008 and comprises 600.12 square kilometers of core and 565 square kilometers of buffer area. Thereby, compromising 1,166 square kilometers of area.
Fauna
There are around 30 species of mammals found in the reserve. Bengal tiger and Indian leopards are the major ones. Amongst the herbivores, are Gaur, Sambar, Four Horned Antelope, Mouse Deer, and Giant Squirrel.
Sahayadri tiger reserve sky is also filled with amazing birds. Indian Long-billed Vulture and Hornbills are the famous birds here amongst the Ornithophiles. Furthermore, The reserve also has amazing varieties of butterflies flying around the flora. Also, Moon Moth and Atlas Moth are majorly seen here.
Tiger Sighting Zones
Shirshinge, Pali, Mhalunge, Navaja, Takavli, Ghatmatha, Male, Rundiv, Siddheshvar, and Dhakale areas are the zones where Bengal tigers are spotted the Most.
Some important facts about Tiger Reserves in Maharashtra
There are a total of 6 Tiger Reserves in Maharashtra
There are 312 Royal Bengal Tigers in Maharashtra as per the latest Tiger Census
A total of 9113 sq km is dedicated to Tiger Reserves in Maharashtra
Out of 9113 sq km, 3775 sq km is the core area and 5338 sq km is the buffer area.
FAQs Tiger Reserve Maharashtra