How to Plan Tiger Safari in India?
Tiger Safari in India – an adventure dream
2023 looks promising for all the wildlife enthusiasts and travel bugs out there. Monsoons have been kind (a little too kind, at some places) and the jungles are covered in lush green. Tiger safaris in India are all set to open and welcome tourists. After all, what looks better in a photo if not a majestic tiger amidst luscious greenery!
Taking a tiger safari tour in India is an incredible opportunity. Use it well and you could come back jumping in excitement to share all the details of the incredible and thrilling time you had. But it will take meticulous planning and some careful execution.
Worry not. We are here to take you through each step of the process. By the time you are done reading this, you will know everything there is to know about planning a safe and exciting safari time in India. From choosing the right location to packing the right clothes for the weather, everything is included below.
What to expect from a Tiger safari?
First thing you must know is that no tiger safari can guarantee tiger sightings. Despite the best efforts put in, it may happen that you return empty handed after a whole day of planning and waiting. After all, the royalty of the jungle tends to their own wishes!
It is best to engage the services of a seasoned naturalist or forest expert as your guide.  They know all about the hunting grounds, movement patterns and signs of presence of the majestic beast. They will certainly increase your chances of tiger spotting manifold.
Be mentally prepared to wake up with the first sun rays in the sky, take a jeep or tourist bus into the thick forests and sit for long hours waiting for nature's clues. You won't be alone, though. Accompanying you and engaging your senses will be the beauty of the wilderness around, other fauna going about its day, birds chirping, and alarm calls of prey to signal a tiger's presence.
Popular Tiger Safari Parks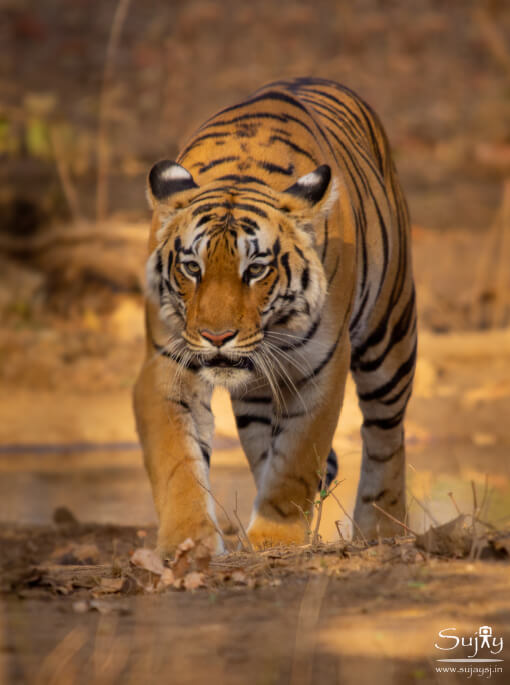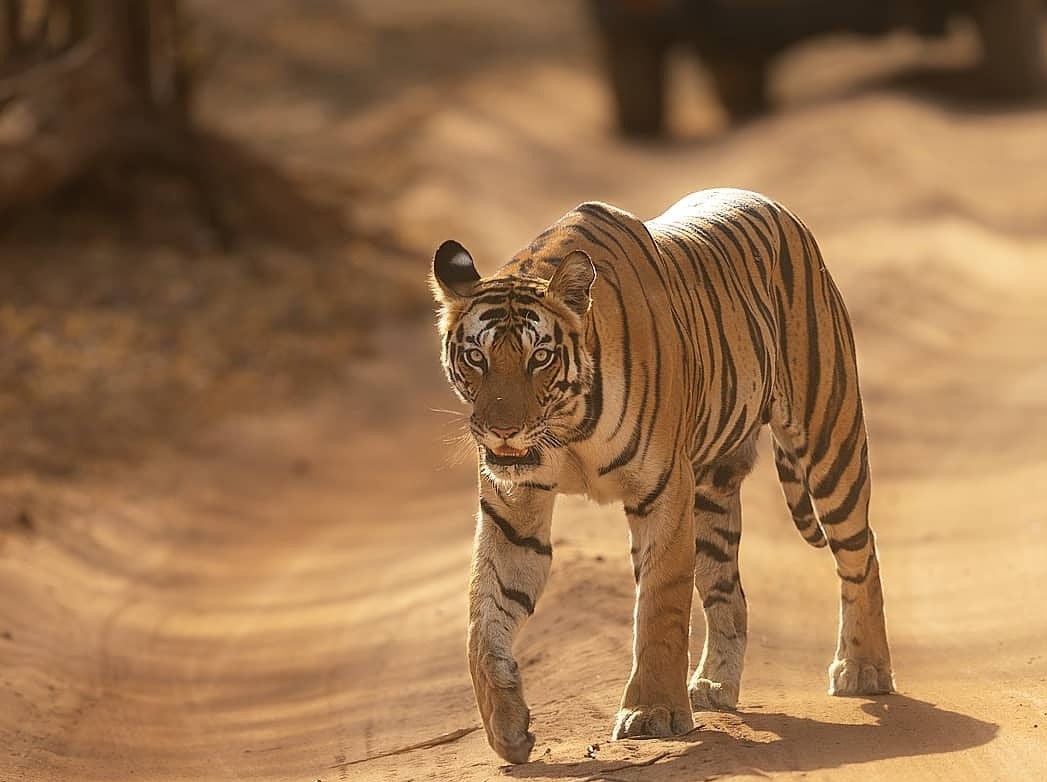 Bandhavgarh National Park
Ranthambore National Park
What to consider while planning a tiger safari in India?
You need to take into account certain factors before you plan your tiger safari in trip India.
Season / Time of the year
Foremost of them is the season of your visit. Tiger safari is open in all three seasons: summer, winter, and monsoon. However, weather effects will alter your costing and experience just a little bit. So pick the season that you will be most comfortable in. 
Park, you want to Visit
The next thing to choose is which National Park or Tiger Reserve you want to visit. Depending on your location or other parts of your itinerary, you can choose any of the famed Tiger Reserves in India: Bandhavgarh, Kanha, Pench, Corbett, Tadoba, or Ranthambore.
Other interesting reads about the famous parks
Zone & Gates for safari
Before you visit your chosen Tiger Reserve, make sure you have accurate information on the zones and gates of the Tiger Reserve you are planning to do a safari. There are various zones in a park and each zone has a few core gates and a few buffer gates. Most of the parks has good sighting in the core gates. However, some of the national parks have better sighting in buffer gates as well . Please consider contacting an expert before you book the zones and gates for your tiger safari in India
Explore our article on "Difference between Core & Buffer Zones of Forest"
Set a Budget
Before you visit, you have to plan and set a budget for your tiger safari trip in India. A tiger safari budget mostly relies on the accommodation, group size, tour length, and the time of the year you are planning to go, if that falls in the low, mid, or high season. A major part of your budget depends on the accommodation you opt-for for your safari trip.
Explore our budget tiger safaris across different parks
Safari Permits availability
Safari permits are crucial, Most of the national parks have limited permits available on a daily basis, and they issue a limited number of safari permits in a day, which can be booked well in advance for the peak season or for the long weekends. Therefore it is advisable to check the permit availability before you finalize your tour dates.
Accommodation
There are wide range of accommodations available, so based on your preference and budget you can select from Budget, Mid-Luxury, and Luxury resorts. Most of the resorts are in the buffer zone of the forests as staying in the core zone of forest is not allowed in Indian forests.
Read our post on "How to select an accommodation for Indian Safari"
Consider an authorized Tour Operator
For a smooth and hassle-free experience, it is best to engage a reputed local tour operator. They will take care of your accommodation, permits and even provide expert guides familiar with the safari area. Their expertise and experience can raise your chances of tiger sightings.
What to Pack
Be careful to pack according to the weather. You will need some items to keep you comfortable in each weather. Such as – coats and hats in winter, raincoats for monsoons, sunscreen, and goggles if you visit in the summer. 
Also explore our detailed post on "What to pack for safari in India"
Keep a detailed plan that fits within your budget. Remember to leave some room for exploration of local cuisine and festivities around. 
How to pick the ideal location for Safari?

India has a large tiger population scattered in its various National Parks and Tiger Reserves. Which of them is most suitable for your trip? 
This is contingent on the season you wish to visit in, the sighting probability of various locations in your preferred season as well as the travel conditions of the area. 
Locations in North India often get too hot and cold in summer and winter respectively. If you aren't one to brace that, you may want to go for a Tiger Reserve in Central or South India. However, all locations may not have similar sighting indexes. 
Therefore, the final decision is a combination of your unique visit preferences.
Best time to see Tigers in India

In various Tiger Reserves across the country, Tiger Safari is available in all three seasons: summer, winter, and monsoon. However, each season offers a unique experience combining its own set of pros and cons. 
Summers have a higher chance of spotting tigers and other fauna near the water bodies since the animals arrive there to drink. However, you must be prepared to sit under the scorching sun waiting for spotting signals. 
Monsoons offer a pleasant experience since the weather is cool. Forests are covered in lush greenery. But it may rain anytime. You will need to carry protective gear such as umbrellas and raincoats. 
Winters have neither scorching sun nor showering rain. However, it may drizzle sometimes. You will require extra layers of clothing to keep you warm. You will have to step out on cold winter mornings for the best sighting opportunities. 
Choose the timing of your visit such that you are able to enjoy your safari in the season you feel most comfortable. 
Must Carry Items for a Tiger Safari Tour

Packing well for a Tiger Safari will make sure your adventure is smooth and hassle free. Here is a list of must-carry items: 
Passport. National Parks in India require a copy of your latest passport to allow you entry into the Park. 

Photography Equipment i.e. camera, lenses, tripod etc.

Binoculars

Sunglasses

Sunscreen

Clothes in neutral colours such as green, brown or khaki. Avoid bright-colored clothes for safari. 

Comfortable shoes for walking/hiking
Extra layers of clothing for winters such as jackets, overcoats, gloves, hats etc. 

Raincoats for monsoon

Insect-repellent or anti-itch ointment

Medicines. Carry all your prescribed medicines as well as basics for common ailments such as cough, flu or upset stomach. Also include some anti-allergy medication as you may catch a previously identified or new allergy in the forest.

Prefer suitcases with wheels for your luggage as they are easy to carry and transfer. Remember to keep it within the weight restrictions of your airline. 
Best Places to See Tigers in India

India is proud to be maintaining several large tracts of forests dedicated to protection and conservation of tiger population. These Tiger Reserves are spread all across the country. Below is a list of the most popular tiger destinations in India: 
Safety and Photography Tips
When you visit somebody's home, you have to respect their rules and customs. Similarly, when you visit the jungle, you must respect the jungle and its laws. Here are some tips to ensure you have a safe and memorable experience: 
Always listen to the guides and drivers. Follow their instructions. They go through this routine regularly, hence it is best to trust their instincts and expertise. 

NEVER get off the vehicle during a safari. It is illegal and very dangerous. 

Maintain a safe distance from the tiger. Remember it is not a house cat but an apex predator. Stay far, stay safe. 

Maintain silence as and when advised by your guides. If the big cat is disturbed, it will turn away. 

Carry plenty of sun protection and water with you.
Clean and prepare your photography gear well in advance. 

Go over your camera manuals again to freshen up your techniques. Make sure you understand your camera and lenses well. 

Do not forget to bring a tripod. Wildlife photography is a practice in patience. You do not want to injure your muscles from holding heavy equipment for a long time. 

Check your cards for sufficient storage space. Also carry extra cards and batteries. 

Avoid changing lenses and memory cards in front of the animals. Keep your equipment ready beforehand. 
How to plan a Tiger Safari vacation in India without hassles?

Once you have made your decisions regarding the time, place and duration of your visit, you need to begin making arrangements for your travel, stay and safari. It's best to book your seats 5-6 months in advance or else your preferred choices may not be available during the peak-season rush. 
You can book your air tickets and accommodation through online portals. Safari booking is now also available via govt booking platforms. 
Alternatively, you can contact a travel partner to make all these arrangements for you. They will coordinate every leg of the tour and ensure a smooth, hygienic, hassle free and memorable trip for you. 
Big Cats India also offers safari tour packages that you can choose from, depending on your time and budget.