Bandhavgarh National Park & Tiger Reserve
Bandhavgarh Tiger Reserve
Cushioned in the lap of Vindhya Hills, the Bandhavgarh Tiger Reserve is one of the most visited tiger reserves in India. It is located in the Umaria district of Madhya Pradesh. With abundant tiger population, rich biodiversity and scenic beauty, this place has achieved a remarkable reputation for its tiger tours.
Bandhavgarh takes its name from that of the most eminent hillocks around. It is part of the government's ambitious Project Tiger established with the sole purpose of conserving and propagating the tiger population in India.
History: Bandhavgarh National Park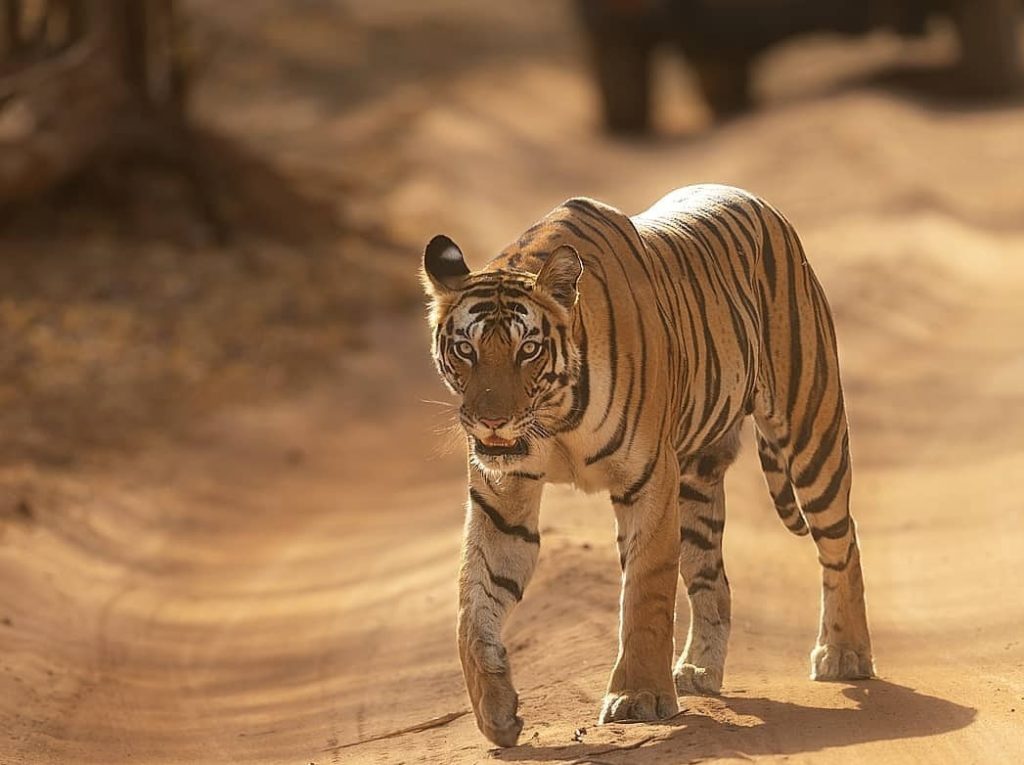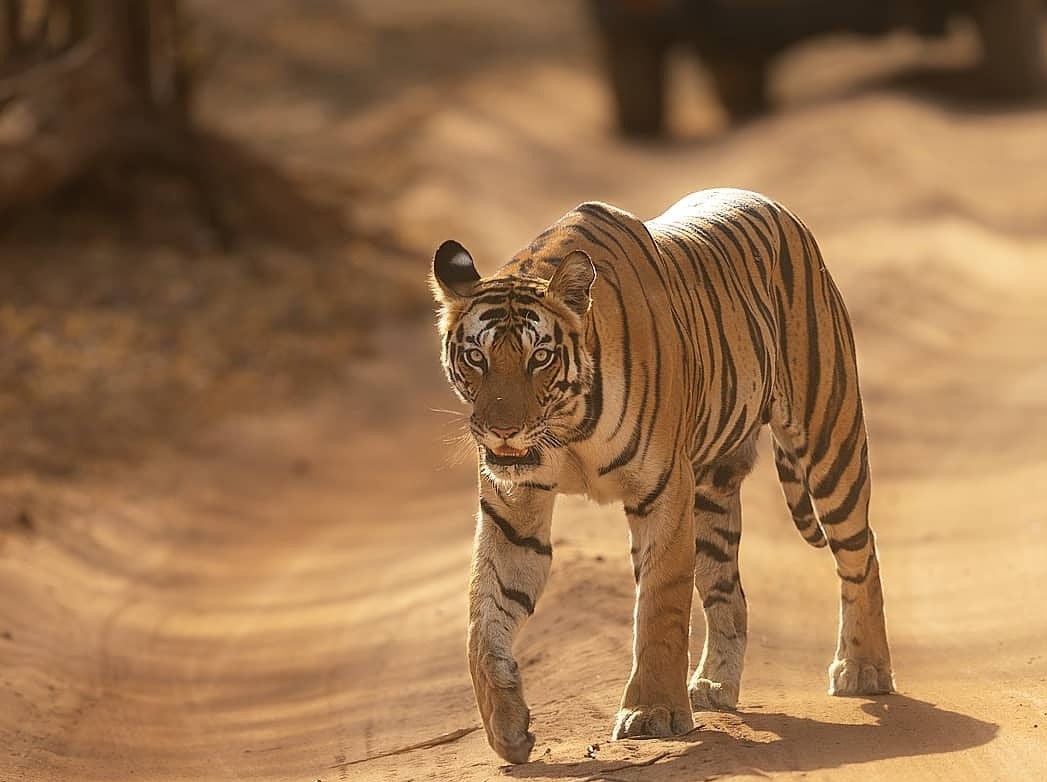 The name 'Bandhavgarh' is a concoction of two terms: 'Bandhav' meaning brother and 'garh' meaning fort. A fort of the same name exists within the reserve complex and is believed to be Rama's gift for his younger brother Lakshman on their way back to Ayodhya.
Bandhavgarh had been a royal hunting ground for Maharajas of the Rewa state. It was constituted a National Park in 1968. Since then, much effort was made to maintain the place as an undisturbed bounty of nature.
It was later realized that protecting merely 105 sq. KMs. of Bandhavgarh wasn't sufficient. Therefore, three ore ranges were added to the area in 1982. These ranges were Khitauli, Magdhi and Kallawah. By the time Bandhavgarh was made a Tiger Reserve in 1993, it had a core area of 694 sq. KMs including the nearby Pampatha sanctuary. The surrounding buffer zone was spread over 437 sq. KMs.
Flora and Fauna – Bandhavgarh National Park
Flora: The vegetation cover in Bandhavgarh is of dry deciduous type. The place has a moderate climate that supports the growth of several dozens of varieties of plants, shrubs, creepers, and trees. The green cover is impressively floral. Amla, Ber, Dhok, Mango, Banyan, Jamun, Kadam are some trees frequently spotted here.
Wildlife: Bandhavgarh is well known for its very diverse wildlife population. It has the highest known density of Bengal Tigers in the world. These big striped cats are at the apex of the food chain here. Below them exist 37 mammals special including Nilgai, Sambar, Chausingha, Spotted Deer, etc.
Avifauna: Bandhavgarh skies remain vibrant and colorful with the presence of more than 250 bird species and 80 varieties of strikingly beautiful butterflies.
Charger – Most famous Tigers of Bandhavgarh Tiger Reserve
Bandhavgarh is home to some of the very famous tigers. Charger, so named because of his habit of charging at elephants, was the first popular male tiger that lived here in the 1990s. He was the second most photographed tiger in the world and had made an appearance on the cover of National Geographic. His partner was the tigress Sita.
Almost all tigers in Bandhavgarh today are descendants of Charger and Sita. Their immediate next generation of Joita, Langru, and B2 kept well with the tradition of moving close to tourists and being photographed. Charger died in the year 2000 and was buring at the Charger Point, his home in old age.
In recent times, Bamera has been the most prominent tiger in Tala zone of Bandhavgarh. Blue Eyes and Mukunda are dominant males in Magdhi and Khitauli Zones.
Attractions in Bandhavgarh National Park
Bandhavgarh Fort: The fort attracts many tourists to its ruins and the nearby temple. Historians believe it is about 2000 years old. However, it is the fort's pre-historic mythic past that draws people here.
Bandhavgarh Hill: It is the highest hill point in the reserve with an altitude of 807 m. There are a total of 32 hills in the tiger reserve. The highest one is formed of sandstone and overlooks different streams and springs.
Climbers Point: This joint gives you an aerial view of the entire reserve horizon which is covered in sal and bamboo forests and occasionally punctuated by streams. It is undoubtedly a must-see location.
Baghel Museum: This museum is a custodian of the life and times of Rewa royalties. It exhibits their personal belongings as well as the hunting equipment they used in these very forests.
Bandhavgarh Tiger Safari Timetable
Both Jeep and Elephant Safaris are available at Bandhavgarh. Even though the denizens of the park are now accustomed to both, it is crucial that proximity to them is guided by an expert watcher who is familiar with the ways of the wild.
The safaris are available in the early morning and late dusk. These are relatively cooler parts of the day when animals stroll out of their safe spaces. The forest department makes use of elephants to track tigers. These elephants can then take you directly to tiger-spotting.
The reserve is divided into three zones: Tala, Magdhi, Khitauli, & Panptha. Out of these, the Tala zone is said to have the largest variety of wildlife. Tigers are also more frequently spotted here.
Safari
Zone
Period / Season
Morning
Afternoon
Tala
15 Oct to 15 Feb
16 Feb to 31 Mar
1 April to 30 June
6:30 to 11:00 AM
6:00 to 11:00 AM
5:30 to 10:00 AM
2:30 PM to 5:30 PM
3:00 PM to 6:00 PM
4:00 PM to 7:00 PM
Magadhi
15 Oct to 15 Feb
16 Feb to 31 Mar
1 April to 30 June
6:30 to 11:00 AM
6:00 to 11:00 AM
5:30 to 10:00 AM
2:30 PM to 5:30 PM
3:00 PM to 6:00 PM
4:00 PM to 7:00 PM
Khitauli
15 Oct to 15 Feb
16 Feb to 31 Mar
1 April to 30 June
6:30 to 11:00 AM
6:00 to 11:00 AM
5:30 to 10:00 AM
2:30 PM to 5:30 PM
3:00 PM to 6:00 PM
4:00 PM to 7:00 PM
Panpatha
15 Oct to 15 Feb
16 Feb to 31 Mar
1 April to 30 June
6:30 to 11:00 AM
6:00 to 11:00 AM
5:30 to 10:00 AM
2:30 PM to 5:30 PM
3:00 PM to 6:00 PM
4:00 PM to 7:00 PM
How to reach Bandhavgarh
By Air: Jabalpur and Khajuraho are the closest airports to Bandhavgarh National Park. Jabalpur is a 04 hours drive while Khajuraho is a 05 hours drive from Bandhavgarh.
By Rail: The nearest railway stations are Umaria and Katni. You can find taxi services to Bandhavgarh from both these stations easily.
By Road: Bandhavgarh is well connected to nearby major towns of Umaria, Satna, Khajuraho, Jabalpur, etc.