58 KMs away from Nagpur lies a Wildlife Safari Park that goes by the name of Umred Karhandla Wildlife Sanctuary. It has become of the favorite place near Nagpur for tiger safari.
Although the sanctuary was notified way back in 2012, it got inaugurated in 2013. The Wildlife Sanctuary tasted the first bite of widespread media and tourist attention when a famous male tiger 'Jai' migrated all the way from Nagzira Wildlife Sanctuary to here.
Tiger Jai traveled more than 130 km on foot to get here.
Jai had been a favorite among wildlife researchers, wildlife photographers, and forest department officials for long.
His migration turned their attention to Umred Karhandla Sanctuary and did much good.
Jai is much admired as the biggest and most handsome tiger in India. He and his next generations draw a great influx of tourists from all over the world to Umred Karhandla Wildlife Sanctuary.
Wildlife at Umred Karhandla Wildlife Sanctuary
Umred Karhandla is home to a variety of wild animals, birds, reptile, and mammals. However, it is the best to know for the Tiger Safari and tiger sighting in the sanctuary.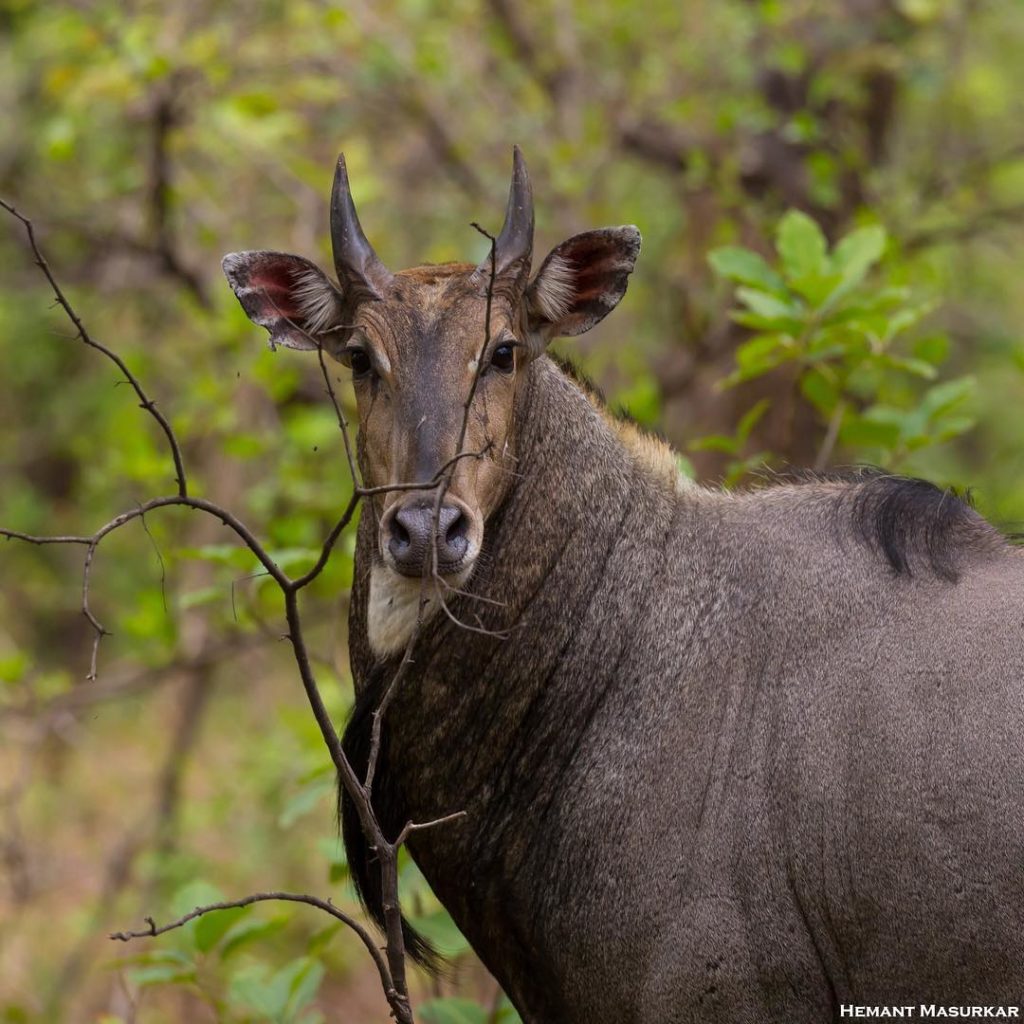 Mammals at Umred Karhandla WLS
Many well known Indian species live here. Such as – Bengal Tiger, Indian Leopard, Blue Bull, Barking Deer, Wild Boar, and Sloth Bear.
According to the 2014 census, a total of 17 big cats were present in the sanctuary. Out of these, 11 were tigers and 6 leopards.
Birds
Umred Pauni Karhandla Wildlife Sanctuary is home to 90 species of birds belonging to 22 families of 12 different orders. This is inclusive of 10 migratory bird varieties and 7 endangered avifauna species.
Reptiles
19 different varieties of reptiles saunter around on the Sanctuary horizon. These belong to 9 different families of which 4 are endangered. Indian Cobra, Indian Rock Python, Monitor Lizard, Russel's Viper are some of the names.
Location of Umred Karhandla Sanctuary
Umred Karhandla sanctuary is spread over Pauni tehsil in Bhandara district and Umred, Kuhi and Bhivapur Taluka of Nagpur district in Maharashtra.
The Wainganga River and the Gose Khurd Dam lie along the northeast boundaries of the sanctuary while State Highway 9 and Bhiwapur Town bound the Southern side. A 10 km long range of 600-800 m high hills lie towards the North -Western front.
Tadoba Andhari Tiger Reserve and Nagzira Wildlife Sanctuary are situated nearby. Pench Tiger Reserve lays 80 km to the North West. Its location between these reserves is advantageous in drawing visitors to the park.
All acts as a connecting link between the Tadoba, Pench, Bor Wildlife Sanctuary and Nagzira tiger reserves and so, serves to reduce tourist pressure. This is even more essential in light of the fact that these are Eco-sensitive areas.
Other details
Around 100 km of motorable road has been developed in Umred-Karhandla. However, tourists are allowed on only 44 km.
Villagers from the nearby areas have been trained to serve as guides. This provides them employment and makes use of their local expertise in knowledge of the area.
Tiger Safari details at Umred Karhandla Wildlife Sanctuary
The administration allows a total of 40 vehicles in the Wildlife Park – 20 in the morning tiger safari and 20 in the evening tiger safari.
Only 20 vehicles are permitted inside the Sanctuary at a time for tiger safari.
There are four zones in Umred Karhandla Wildlife Sanctuary
Karhandla Zone
Gothangao Zone
Pullar Zone
Pauni Zone.
Safari Charges for Umred Karhandla Wildlife Sanctuary
| | | |
| --- | --- | --- |
| Charges Details | Weekday | Weekend or Holiday |
| Gypsy Charges | 1800 | 1800 |
| Guide Charges | 300 | 300 |
| Per Adult | 80 | 90 |
| Per Child | 30 | 35 |
| Vehicle Entry Charges | 440 | 480 |
| Camera Charges | 100 | 100 |
Based on the above charges the total Tiger Safari charges for 6 people will be INR 3120 on a weekday and INR 3220 on a holiday.
Please note that private vehicle is not allowed inside the sanctuary so you have to opt for the authorized Gypsy for Tiger Safari.
Also, note that Karhandla and Gothangao gates are closed on Monday. And Pauni gate is closed on Tuesday
Safari timings Umred Karhandla
Like most of the other National Parks and wildlife sanctuary, Umred Karhandla also follows different safari timings for winter and summer season.
Season / Period
Morning
Entry
Morning
Exit
Evening
Entry
Evening
Exit
1 July – 30 Nov
6:00 to 8:00 AM
10:00 AM
2:00 to 4:00 PM
6:30 PM
1 Dec – 29 Feb
6:30 to 8:30 AM
11:00 AM
2:00 to 3:30 PM
6:00 PM
1 Mar – 30 Apr
5:30 to 7:30 AM
10:00 AM
3:00 to 4:30 PM
6:30 PM
1 May – 30 June
5:00 to 7:00 AM
9:30 AM
3:30 to 5:00 PM
7:00 PM
How to reach Umred Karhandla Wildlife Sanctuary
Umred Karhandla is the nearest wildlife destination near Nagpur
The main entrance of the Sanctuary is through the Karhandla Gate, also known as the Umred Gate, which is around 55 km from Nagpur.
Distance of all the gates from Nagpur are:
Karhandla Gate is 55 kms from Nagpur
Gothangao Gate is 65 kms from Nagpur
Pullar Gate 70 kms from Nagpur
Pauni Gate 85 kms from Nagpur
The nearest airport and railways station to the sanctuary is Nagpur and it can be reached easily from Nagpur.
Umred village is the nearest Bus stop to the sanctuary and regular bus services are there from Nagpur.
If you are planning to reach the sanctuary by your own vehicle then Karhandla gate is the nearest and most convenience from Nagpur